Hill Country Cycling Camp Meaningful Time
We wanted to create a fun atmosphere that spreads throughout the house. Instead of going off into your hotel room to watch TV - which is what you get at other cycling camps - our camp offers-up something more long lasting than that. Here you can make new friends, share stories and recover in a comfortable home setting
Region:
Not only is the Hill Country central to Texas and home of our capital, but many consider this the heart and soul of the state. Perhaps only here have such an array of cultural and natural features come together to create such a uniquely charming region. The land's beautiful rolling hills, sparkling rivers and bold display of bluebonnets every Spring are matched by the independent spirit of the people and a level of cultural diversity Texans pride themselves on.
Food:
The Texas Hill Country has become one of the most highly traveled destinations in Texas over the last decade and it is a mecca for foodies around the world. There is so much to love amidst the area's fusion of flavors from the huge range of Texas food producing regions—fresh coastal seafood, wild game, grass-fed beef, local produce, artisan cheeses, and incredible wines.
History:
The area is also unique for its fusion of Spanish and German influences in food, beer, architecture, and music that form a distinctively "Texan" culture separate from the state's Southern and Southwestern influences.
Day 1
DAY 1
Upon arrival each participant will be welcomed by the staff and the beauty of the Texas Hill Country. Each rider will be able to settle into their room in this comfortable, huge cabin and find their way to the kitchen for refreshments and snacks. An on-bike safety skills class will be conducted after everyone settles in, offering a solid, uniform protocol for the weekend's rides. Following dinner, the coaches will lecture on nutrition.
Day 2
DAY 2
Today, the first full day of the Texas Hill Country Camp, offers two fantastic rides in and around Fredericksburg. With lunch serving as a mid-day refuel stop, there's plenty of time to to recharge for the rest of the day. Later, we all head into Austin to see the city's famous crit race series, The Driveway Series. Then, not missing a beat, we'll explore dinner on the town and head into the world famous 6th Street.
Day 3
DAY 3
Again today we'll explore the Texas Hill Country by bike, heading more west of Fredericksburg. We find ourselves in the afternoon overlooking Enchanted Rock towards the end of the ride. We then revisit Enchanted Rock on foot before dinner. After dining, the coaches hold a lecture on training with power and heart rate.
Day 4
DAY 4
This half day gives each participant an opportunity to hear one last lecture from the coaches. This time we talk about strength and flexibility training. Then you can get-in one more ride, this one to the country song famous Town of Luckenbach.
Ride1
Willow City Loop   -   58 miles   -   Total ascent: 2710 feet
To know Texas is to know the Willow City Loop. The queen cycling attraction in Gillespie County. Pretty at all times, the spectacle of the Willow City Loop peaks during wildflower season in mid/late spring when it glows in a blaze of natural glory. This will be an epic introduction to the Texas Hill Country!
Ride2
A Quick One   -   19 miles   -    Total ascent: 754 feet
A great 19 mile route when short on time or when weather threatens, A Quick One also makes for a great Friday afternoon ride before we head into town. Although covering a short distance, and not venturing too far from town, this route includes plenty of Hill Country scenery. It also includes a notable section of climbing toward the end, which pays off with a spectacular view of Fredericksburg looking down on the city and down on Cross Mountain.
Ride3
Crabapple Loop   -   46 miles   -   Total ascent: 2222 feet
The route north of Fredericksburg is one of our favorites. The views back over the valley after climbing Lower Crab Apple are always worth a short stop. And you'll love the section along Welge-Hausen where you zoom down hill with Enchanted Rock looming in the distance.
Ride4
NW Loop   -   35 miles   -   Total ascent: 1506 feet
Taking aim just west and north of Enchanted Rock, we give you the Northwest (NW) Loop. You'll appreciate getting even further west and taking in spectacular wildflower beauty along the way.
Ride5
Luckenbach, Texas   -   28 miles   -   Total ascent: 991 feet
This 28 mile route takes you through its eponymous town - Luckenbach, Texas, memorialized in song by Willie Nelson and Waylon Jennings. It also visits Cain City, Texas, a former railroad town that now exists as little more than a Fredericksburg suburb - albeit one with a spectacular view
and a biting climb.
MEET THE TEAM
Our coaches are trained to make your trip magical. They aren't just experts in riding; they're trained in delivering uncompromising service in ways you won't believe. We know that it's the unexpected surprises that make a trip magical. That's why our coaches pride themselves on anticipating your needs before you ask.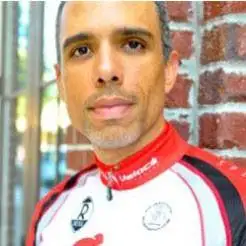 Coach Kameel
I have been a professional coach for over 17 years. During that time I coached Cyclist, Triathletes and Runners ranging at all levels. I have also conducted numerous coaching consultations for athletes and teams.
Studying under some of the industry's leading in the sport USA Cycling Level I Certified Power Based Training, USA Triathlon Level 1. I'm also a Retul Master Technicial and have fitted over 2000 athletes over the years
USA Triathlon Coach L1    |   USA Cycling Coach L1    |   Power Meter Training Certified    |   RETUL Master Certified Bike Fitter