Girona Cycling Tour
Girona is a magical place with switchbacks coiling up mountainsides; with quiet, smooth roads through a historic, hospitable landscape. A place with coastal views, with cobbles and climbs; a place where the pros choose to live and train. Around you, a rich culture, a slower-paced lifestyle and long days of golden sun, with nothing to do but ride.
Region:
Girona, a small city about an hour outside of Barcelona, is a European cycling hotbed. From touring travelers to pro racers setting up shop, it's full of cycling culture and has riding that will leave you absolutely exhausted—and begging for more time to ride.
Food:
Girona is known for the outstanding vitality of its cuisine, characterized by a combination of traditional and avant-garde dishes, based on the use of local produce and time-honoured recipes. The city has many restaurants offering a wide range of fare: Catalan, Mediterranean, market and signature cuisine
History:
Girona is a city rich with the historical and cultural heritage of Catalonia. The valley was settled and developed by various communities and empires throughout its history, including the Iberians, Romans, Arabs, Jews and Carolingians.
October 2023
$2000 Double Room per rider
$1200 Double Room per non-rider
$2500 Single Room per rider.  
(registration fees are non-refundable)
RIDER TYPE:
Group B pace. Active / Recreational
NON-RIDERS ARE WELCOME:
Non-riding travelers will have plenty activities located nearby our very centrally located accommodation
BIKE AVAILABLE FOR RENT:
Road or Gravel Bikes
Plan your Travel
We suggest that you arrive to Italy few days prior to the trip start, which will enable you to adjust to the time zone and minimize the risk of missing the trip start due to flight-related delays. We recommend that you fly into Milan Malpensa Airport (MXP) In the morning time .
---
We suggest that you arrive during the day since require a train ride from Barcelona to Girona. We recommend that you fly into Barcelona Airport - El Prat (BCN) In the morning time . You may take the train from the Barcelona Airport to Giron. The trip will take about 90 minutes and will cost around $25. If you plan to arrive outside of regular business hours we suggest that you used the link to endure the train times.
What's Included
Full Cycling and non-cycling guide
Meal ( Breakfast )
We will be touring  Girona and Barcelona
What's Not Included
Airfare and transportation to and from the trip pick-up/drop-off locations
Bike transportation or bike rental
Lodging before and after the trip
Personal items purchased during the trip
Optional activities not scheduled by MotionFit
Train, Bus, Ferry and Taxi transportation
Meals ( Lunch and Dinner )
Protection
We recommends that you purchase a travel protection plan to help safeguard you and your travel investment against the unexpected. Travelex Insurance Services provides coverage for unforeseen events that could affect your ability to travel with us.
Non-Rider
Bike Rental
Day 0
If you follow our recommendation arrive few days before to rest and explore Barcelona
---
Day 1
Upon arrival each participant will be welcomed by the staff and the beauty Girona at our 4 star hotel. Each rider will be able to settle into their rooms.
Setup the Rental bike for next day ride
  OPTIONAL ACTIVITIES:
Walk around the Girona
---
During Dinner Coach Kameel will discuss next day ride and activities
---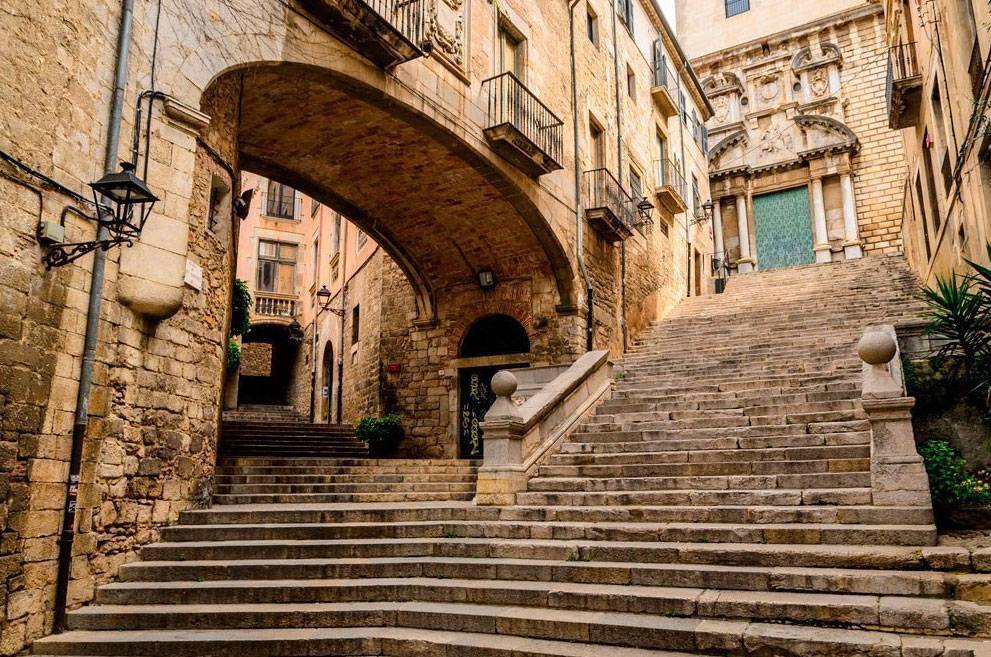 Day 2
Ride Difficult (Medium)
Girona to Monells Loop
Monells is nonetheless an extremely charming destination, a tiny village with a big heart. Monells has charming  cafe's that puts tables under the arches, the perfect spot for refuel.
  Normal Ride Distance: 40 Miles    Climb: 3000ft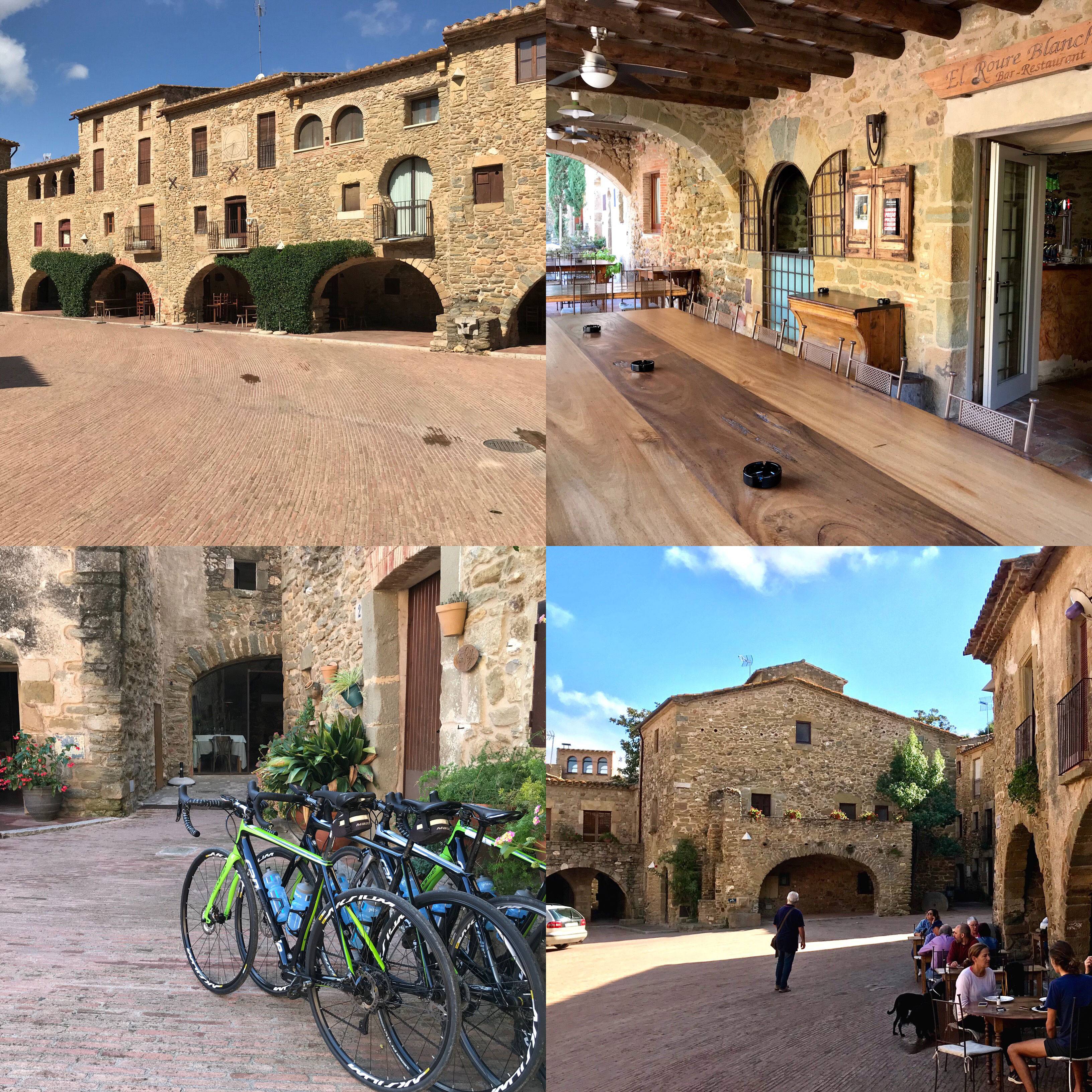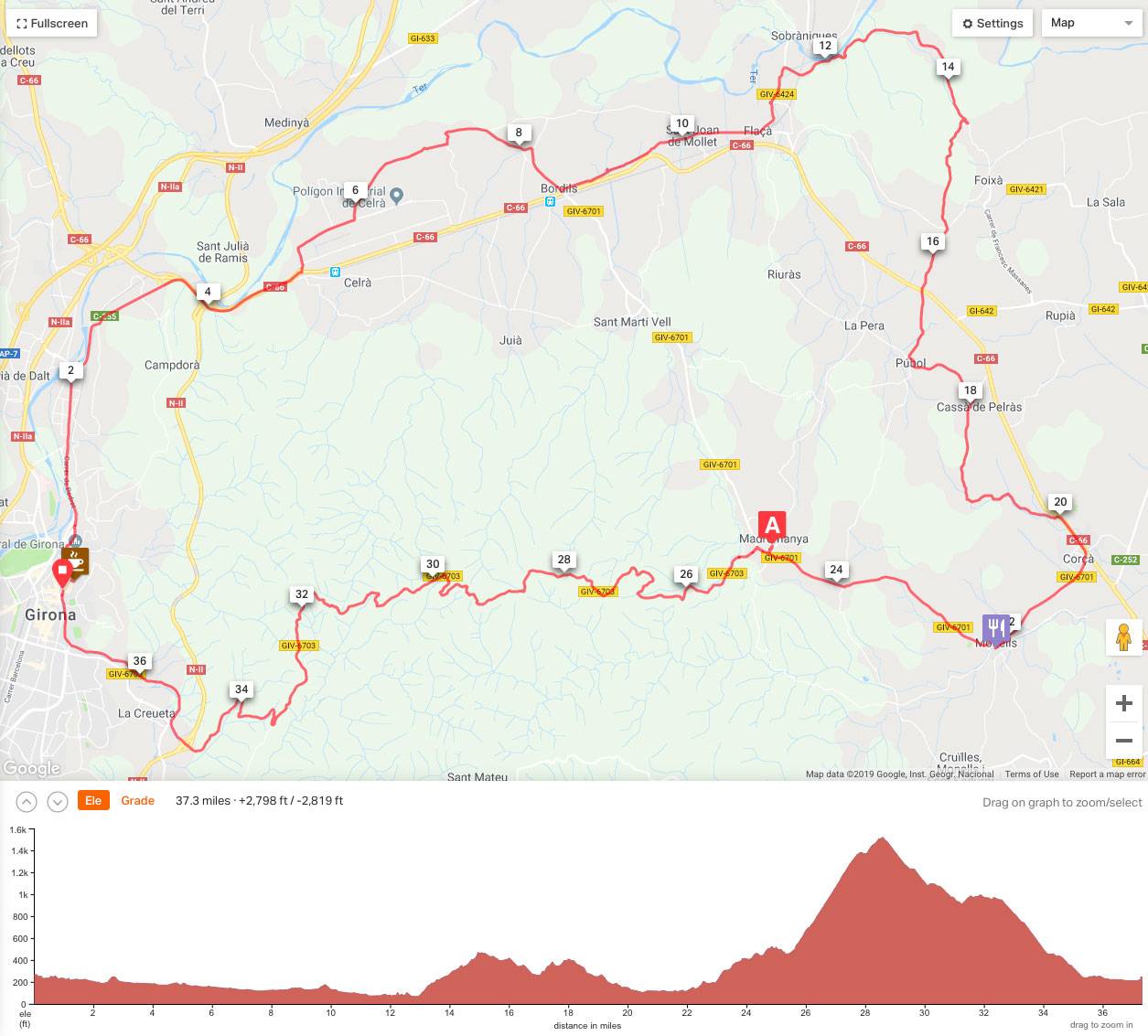 ---
  OPTIONAL ACTIVITIES:
TBD
Day 3
Ride Difficult (Hard)
Girona to Tossa de Mar
Tossa de Mar is a pretty town with cobbled streets, constructed around a magnificent ancient castle, located in the Spanish region of Catalonia on the Costa Brava.
  Normal Ride Distance: 60miles    Climb: 4400 ft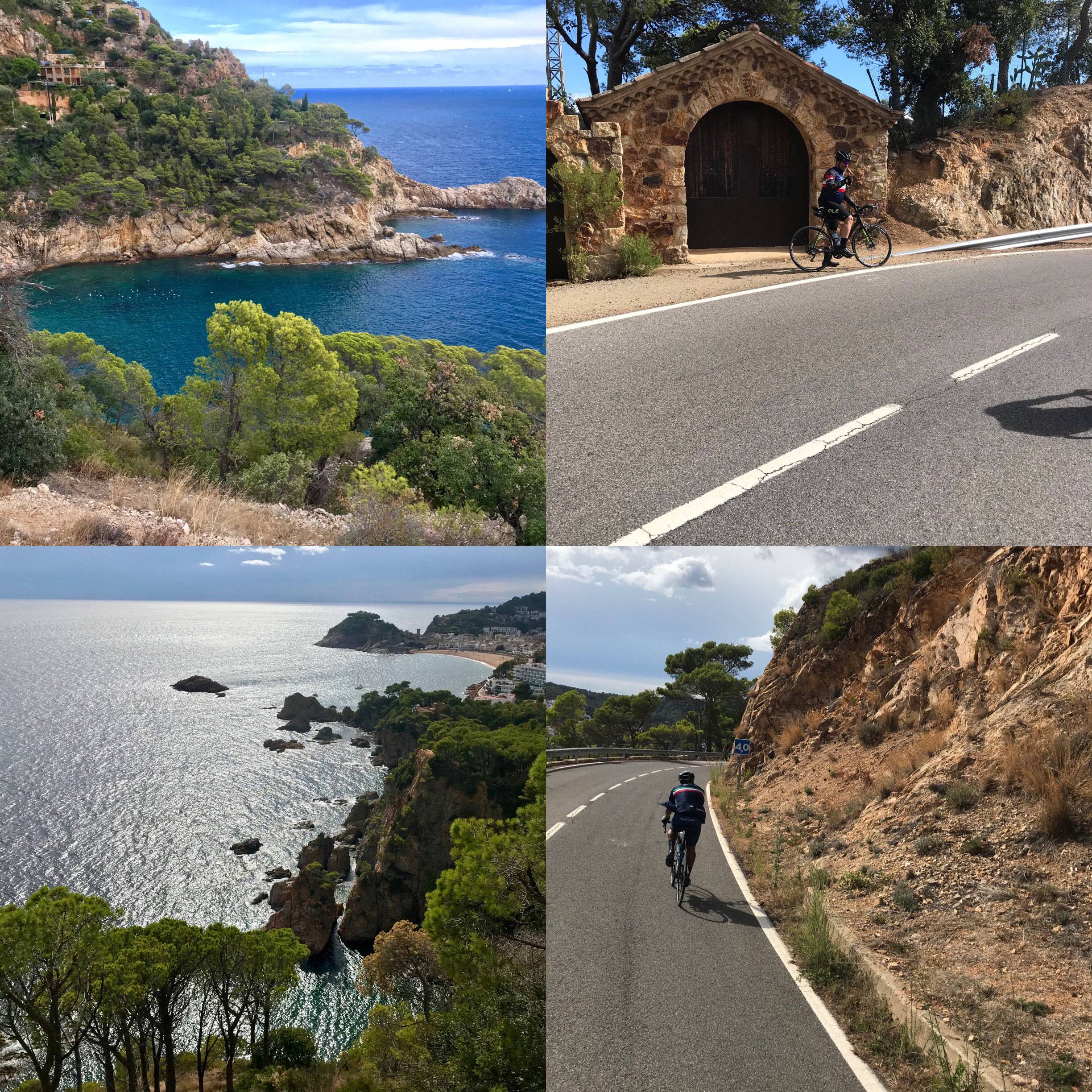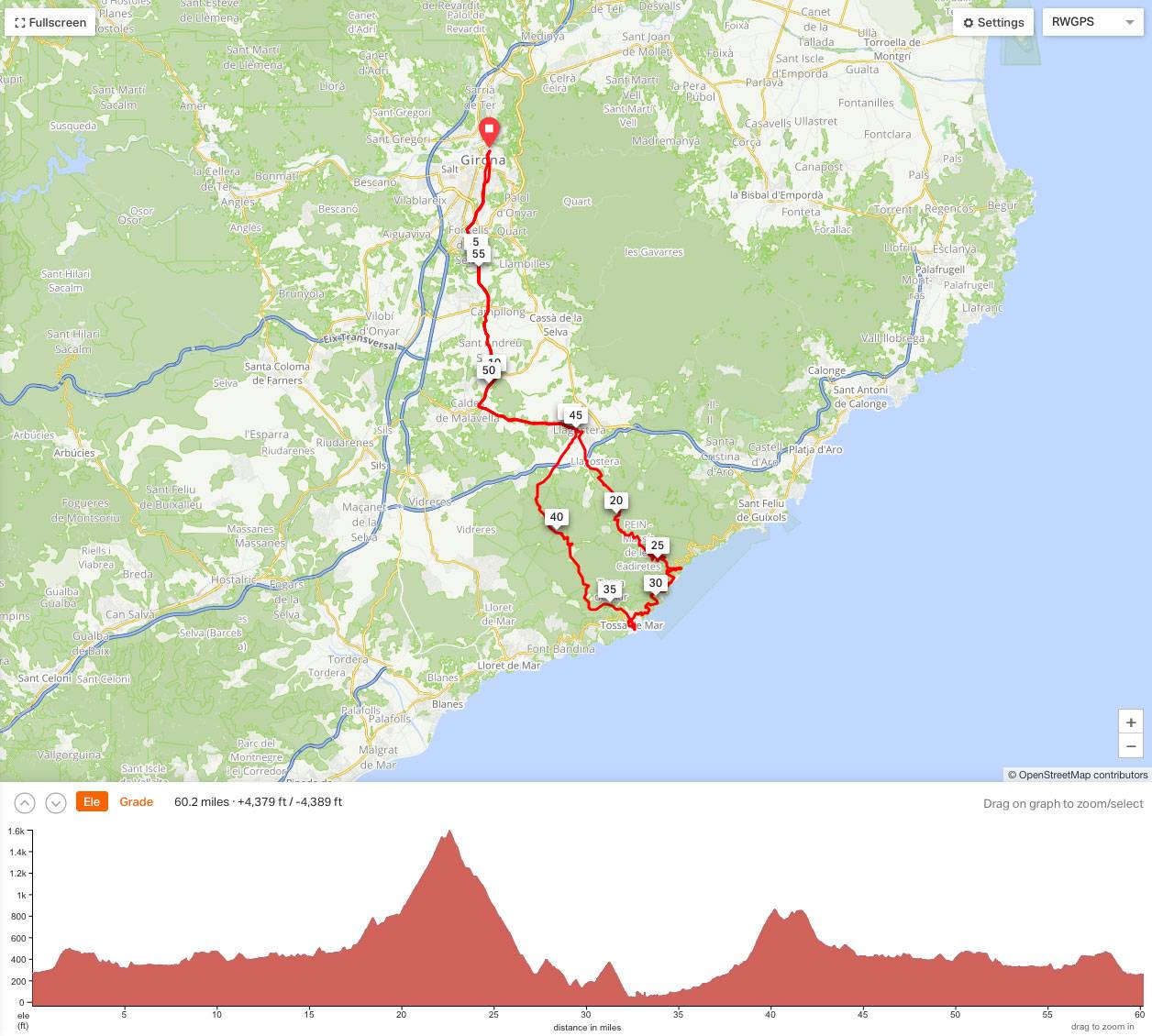 ---
  OPTIONAL ACTIVITIES:
Day 4
Tour Barcelona  --------Day off from Cycling 
We will travel to Barcelona by train early in the morning it only takes 35min.
Day 5
Ride Difficult (Medium)
Els Àngels
The Els Àngels circuit takes in two climbs with a nice respite in the middle. The gradients are never too intense, and the first climb starts just 3 or 4 kilometres from Girona.
  Normal Ride Distance: 44miles    Climb: 3534 ft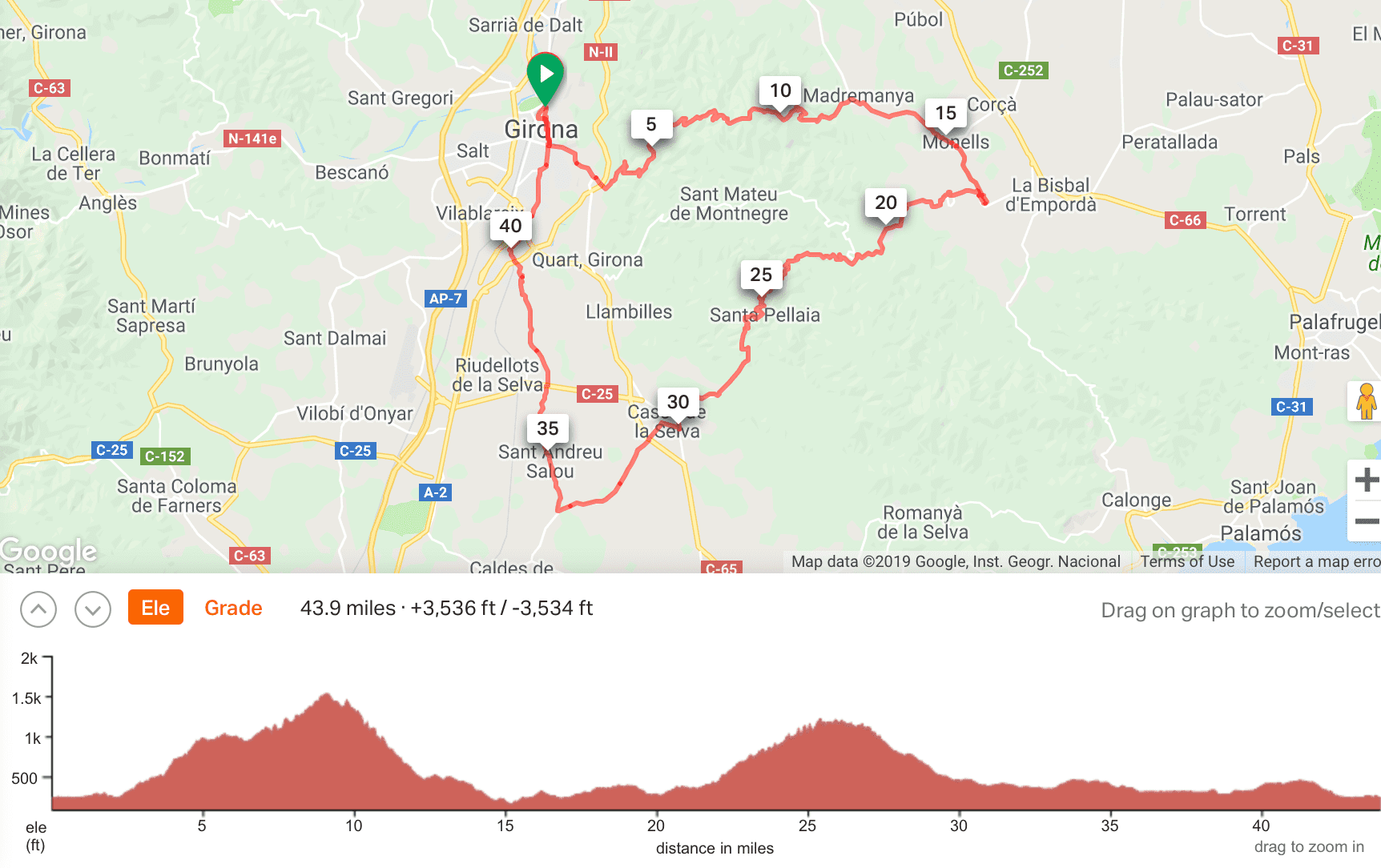 ---
  OPTIONAL ACTIVITIES:
Day 6
Ride Difficult (Hard)
Mare de Deu del Mont
Mare de Deu del Mont. MDDDM is difficult because of its length, though is relatively steady in terms of gradient (but the last 2km are very steep!) This route is a full day out riding, and takes in the beautiful lake at Banyoles on the way back
  Normal Ride Distance: 80miles    Climb: 6215 ft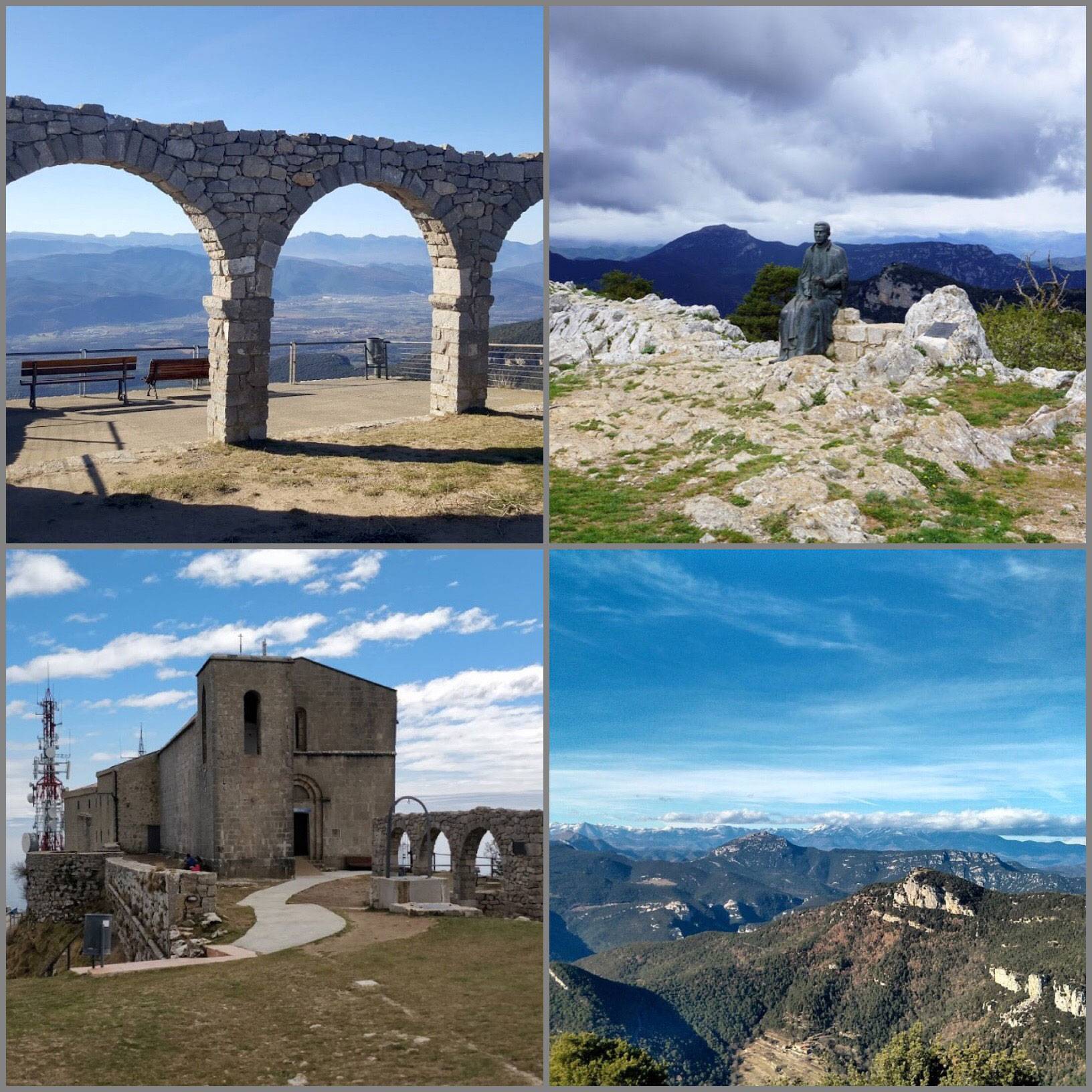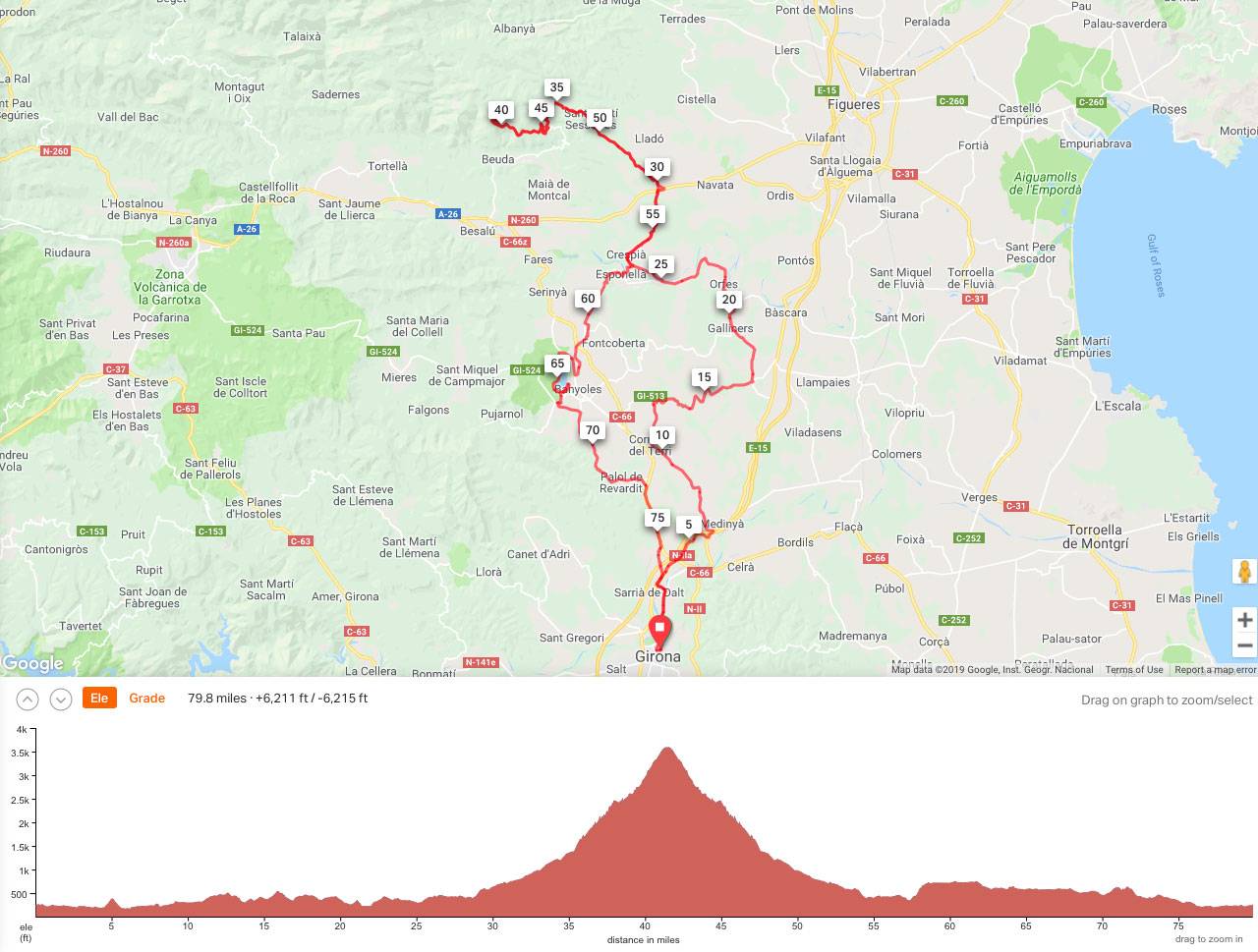 ---
  OPTIONAL ACTIVITIES:
Day 7
Departure:
If you are flying out today, please do not book a flight before 2:30 PM.